Load up on summer reading with Tirgearr Publishing!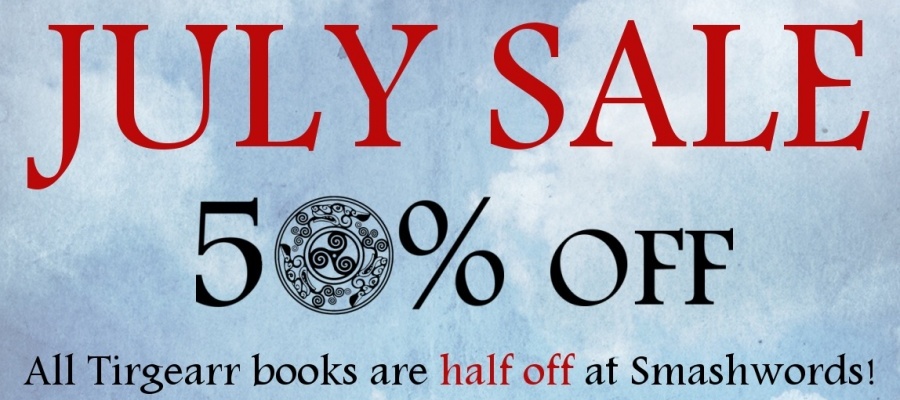 Find the books you want to buy and chose the Smashwords link directly from the book's page,
or click here to see all of Tirgearr's books on Smashwords.
Chose those books you're interested and enter the code at checkout.
Simples!
Preorder books and books already priced at 99c do not apply.

AVAILABLE NOW

When inquisitive antique dealer Cami Wilson learns she's the revered offspring of an immortal mother and a mortal father, it's not just her hybrid status that has her all flustered. The title comes with her very own super-sexy guardian.

Jaded immortal Joseph Carlisle has only one thing on his mind; his sworn duty to protect the hybrid from those who wish her harm. Anything else would be complicated. That is until they meet.

Chemistry sizzles between them but there's a problem—the hybrid's curse. Cami's touch, skin to skin, proves near fatal to her and all immortals, Joseph included.

But the fated lovers discover her curse is the least of their concerns when a friend's deadly betrayal threatens to tear them apart forever.
GRAB THESE TITLES ON PRE-ORDER NOW FOR JUST 99c/99p/99euc!!

27 July


3 August


17 August

24 August

31 August


7 September


21 September
The War Queen
J. Robison

28 September
One Night in Sydney
Jan Graham
5 October
A Rose Named Vengeance
Stella Whitelaw
12 October
A Hundred Hands
Dianne Noble
19 October
Swallow Hall Murder
Noreen Wainwright
---
JUST DESSERTS
compiled by the team at
Tirgearr Publishing

Great all-season recipes for every occasion

Delicious and Easy-to-Make

FREE at most vendors!

HOME • AUTHORS • BOOKS • SUBMISSIONS • NEWSLETTER • TIRGEARR








• Copyright © Tirgearr Publishing - All Rights Reserved •